Quality increases hygiene
Decades of working with end users in all sectors has resulted in Vileda Professional being recognised as experts in professional cleaning. Our offer of unique, ingenious products and services ensure the cleaning process used by our customers are the most effective, efficient and hygienic available. 

Selecting Vileda Professional cleaning utensils and implementing the correct protocols will help achieve your hygienic cleaning aims.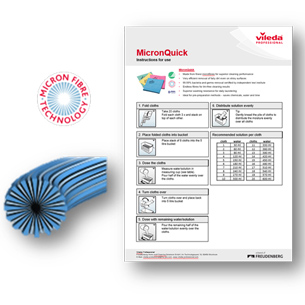 Many cleaning products may look the same but in use the differences become clear. Investing in quality products ensures:
Constant high quality: microfiber composition, split and % used is the same every order
Constant high performance: One wipe cleaning, water absorption and dosing
Certified bacteria removal (up to 99.99%)
Easy to clean after use: minimised dirt traps
Easy SOP integration
High wash durability
Expert support and advice
At Vileda Professional, we have the expertise to show quality contributes to a successfull infection prevention.
Our concepts for a clean and safe facility