Not all Microfibers are the same?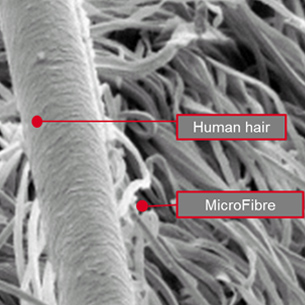 Microfibers are very fine fibres with a fibre thickness of less than 1 dtex (1/100th size of a human hair) that clean better than conventional fibres because of their superior mechanical action and good absorbency. This removes higher levels of dirt and grease, reduces dependency on chemicals and leaves a streak free finish.

However, microfibers are not a one-size fits all solution, the composition, thicknesses and blends are the secret to consistent high performance (up to 99.99% bacteria removal) and low friction across a variety of surfaces.
Benefits of Vileda Professional microfiber products:  
Externally certified bacteria removal up to 99.99% (note: removed, not killed)
Streak free cleaning: Only small droplets left on surface after cleaning, very low tendency to re-deposit germs & dirt back to surface
Wide range of microfiber products for all surfaces and tasks
Microfibres in different decitex qualities (Micron and Microfiber)
Available in single use and machine washable formats
Colour coded (Blue, Red, Green, Yellow and white)
Supported by extensive usage, application advice and certification
Assurance of consistent high quality production,
Production also in Europe
At Vileda Professional, we have the knowledge and expertise to prove not all microfibers are the same.
Our concepts for a clean and safe facility