Benefits of colour coded cleaning products
Colour coding cleaning is the process of assigning colours to almost all cleaning products and their areas of use within a site. Apart from area allocation and if allowed by the governmental guidelines you have the option to give the colours other meanings, as you decide.

As no internationally recognised standards exist and colours can change between sectors, the key is that all staff understand the policy used in your site.

Implementing colour coding simplifies training, provides supervisor/client oversight, bridges language barriers and is proven to reduce cross contamination. Examples include:
NHS hospital cleaning in the UK: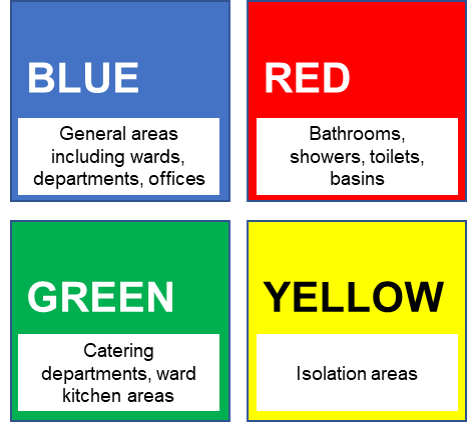 NHS hospital cleaning in the UK:
Blue: general areas including wards, departments, offices and basins in public areas
Red: bathrooms, washroom, showers, toilets, basins and bathroom floors
Green: catering departments, ward kitchen areas and patient food service at ward areas
Yellow: isolation areas, ICUs etc
Within a hotel, the colours could be: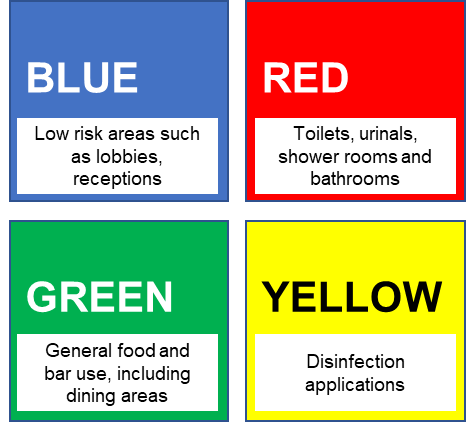 Within a hotel, the colours could be:
Blue: Low risk areas such as lobbies, receptions, hallways and bedrooms (excluding food areas)
Red: Toilets, urinals, shower rooms and bathrooms
Yellow: Disinfection applications
Green: General food and bar use, including dining areas and cafe lounge spaces
At Vileda Professional we have the knowledge and expertise to offer you solutions you can trust. 
Our concepts for a clean and safe facility