r-MicronQuick
r-MicronQuick is made of endless microfibres, splitted into 32 segments and is made from up to 70% recycled material.
Read more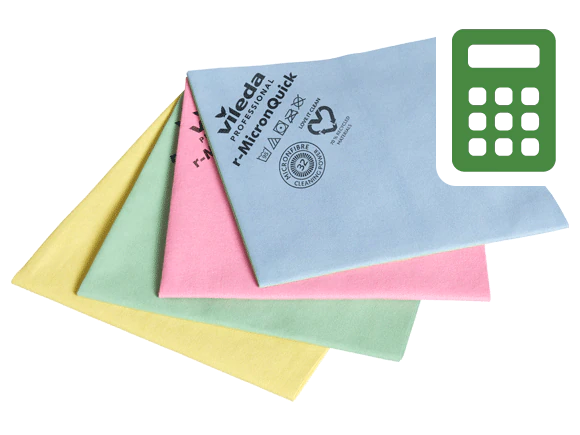 Cleaning cloths – for a hygienic cleaning standard
Cleaning and sanitising business areas can be a lot more work than a quick and easy clean-up. Any area where your staff or customers spend time or touch surfaces needs to be cleaned deeply and on a daily basis to prevent microorganism from spreading. You will need the right cleaning tools for the job. The Vileda Professional cleaning cloths clean surfaces gently and thoroughly which will save you time and energy.
Especially Vileda Professional's patented MicronFibre Technology provides the finest split microfibres on the market, for effective cleaning in hygienic sensitive areas. Many Vileda Professional cloths are externally certified to remove up to 99.99% of bacteria. When used with disinfection chemicals you double your protection as you combine optimal removal and disinfection action in one efficient process. The cleaning cloths are long lasting and absorbent. Learn more about our different cleaning cloths and what they're suitable for!
Cleaning cloths for all your needs by Vileda Profess
Our cloths are very versatile and can be used for almost any purpose. Check out the different properties that fit your needs perfectly depending on your site and situation. We provide hygienic cloths that are developed for professional usage e.g. in general building cleaning, in offices, restaurants and hotels and even in healthcare environments.
We tested different compositions of materials for our cleaning cloths to find the perfect balance for each purpose. This is why we can offer you the best in:
Machine washable wipes
Single use wipes
Long term wipes
Short term wipes
General cleaning wipes
Dish drying & polishing towels
Water handling wipes

Our reusable cleaning cloths help you to achieve streak-free results even over a long period of time due to their durability when it comes to washing cycles. Learn more about our reusable cleaning cloths which offer you versatile benefits, varying on the application need:
Very efficient removal of fatty dirt even on shiny surfaces
Effective and hygienic cleaning
Endless fibres for lint-free cleaning results
Superior washing resistance for daily laundering

These cleaning cloths are specifically designed to be gentle on your surfaces while achieving the best results. Use the colour coding system for the most hygienic cleaning process. For best results use our cloths together with our mop systems and our cleaning trolleys.
Our disposable or semi-disposable cleaning cloths are designed for different cleaning tasks and offer you a range of properties such as:
Made from the finest microfibres for superior cleaning performance
Efficient removal even of fatty dirt
Special cloths offer streak-free cleaning
99.9% bacteria and germs removal certified by independent institute
Very high absorbency for good spill pick-up
The properties of the cloths may vary based on the respective application and material used.
Our special PVAmicro cloths combine the powerful cleaning performance of the microfibre with high water storage capacity of the PVA.
Most of our cloths are suitable for the pre-prepared method as well as for bucket and spray wiping and most of them can be used on all kinds of surfaces:
Our cloths have different properties so you can find the perfect fit for your surface. For specific tasks, opt for our sponge cloths, window cleaning cloths or dusting cloths for a perfect clean every time. Find out more about the perfect Vileda Professional cloths for your needs!