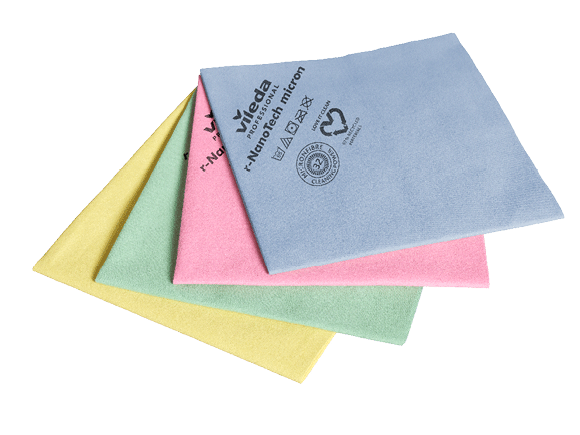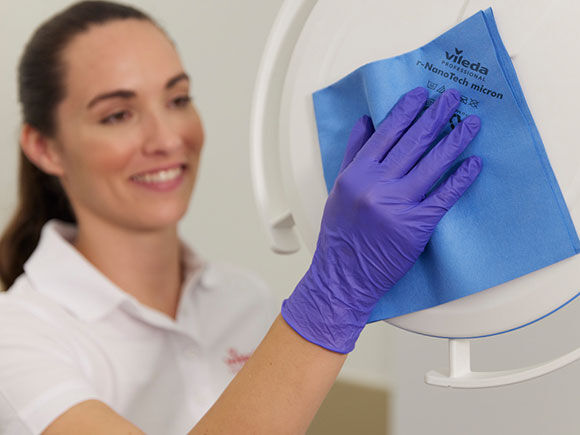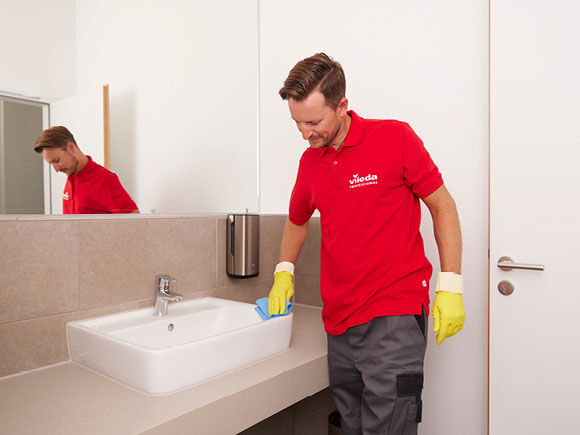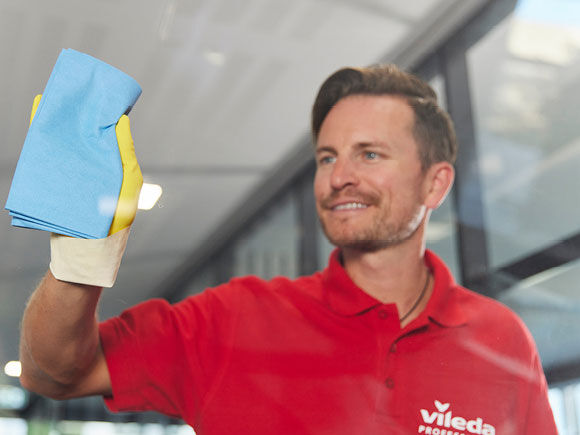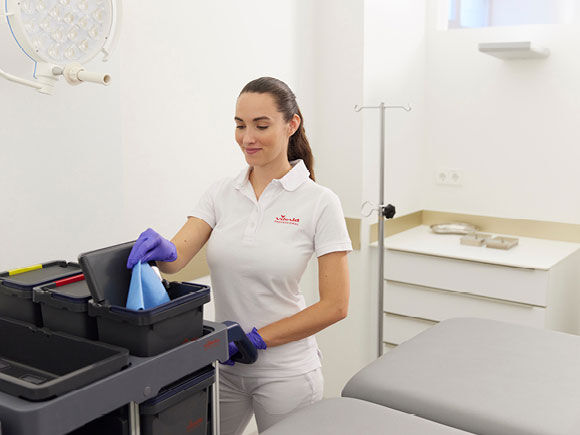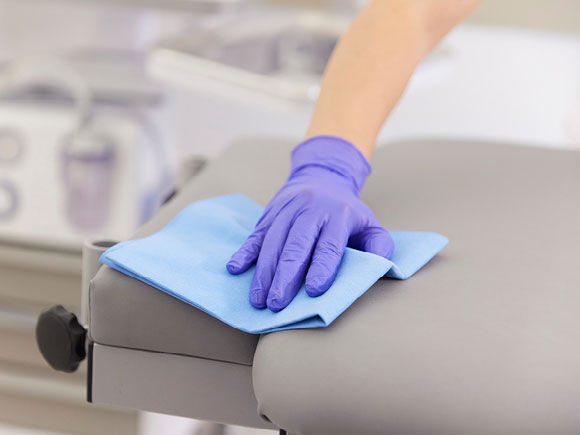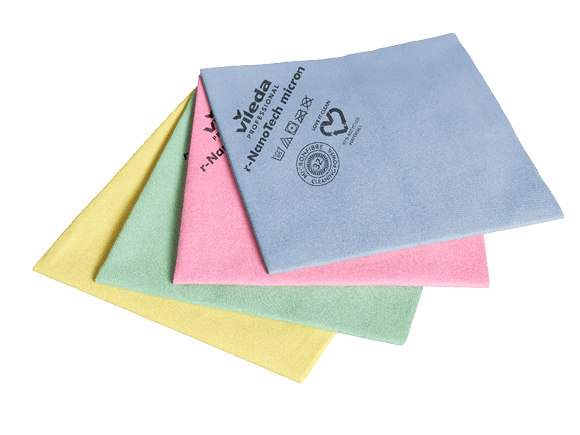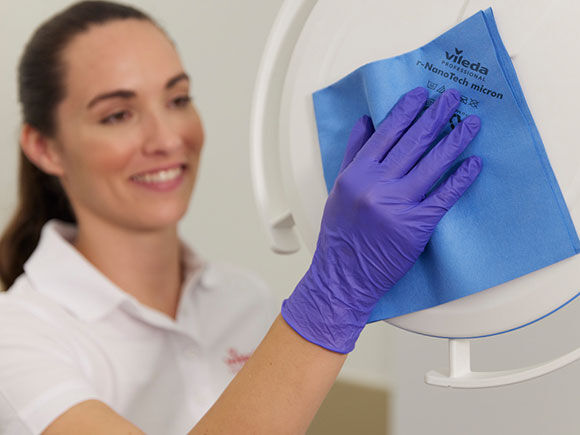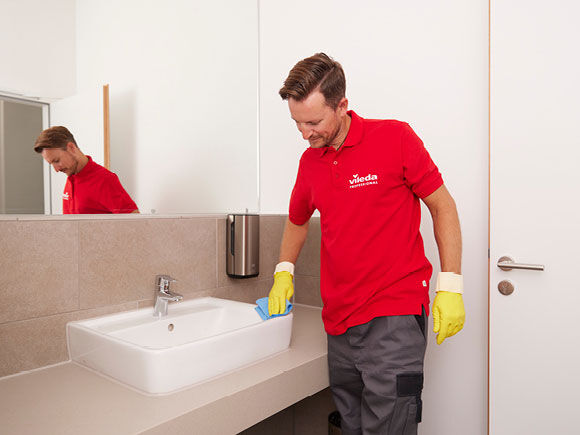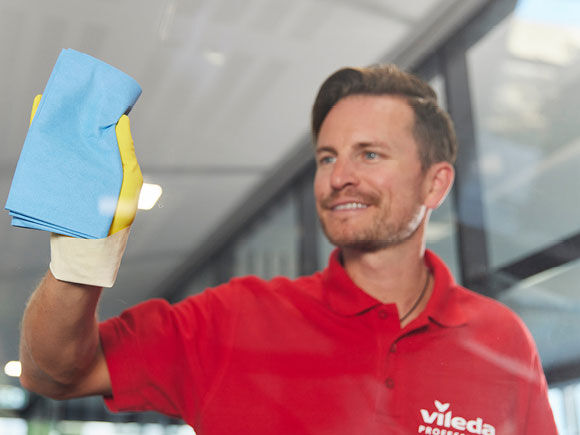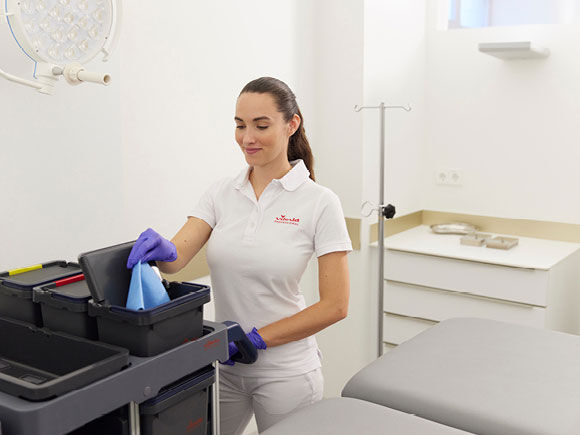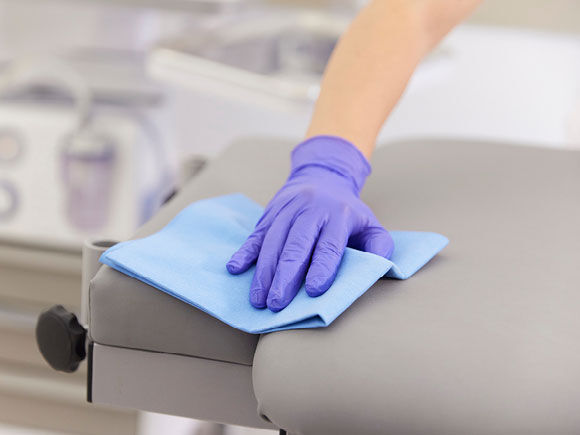 r-NanoTech micron
Recycled and durable micronfibre cleaning cloth
r-NanoTech micron is Vileda Professional's recycled, durable and washable micronfibre cleaning cloth. Made from 67% recycled micronfibres which are made from 100% post-consumer plastic like PET-bottles, it is part of Vileda Professional's ambition to create a more sustainable future. This ambition does not forfeit any of the qualities, Vileda Professional is known for – it comes with the same high-level cleaning performance and even the cleaning of fatty dirt on any surface can be done with excellent streak- and lint-free results.
The wipe removes up to 99.99% of bacteria and viruses as well as 99.99% of the bovine coronavirus thanks to its advanced micronfibre-technology. Besides, the durable and washable micronfibre cleaning cloth does not require tumble drying, and thus saves time, energy and money while maintaining the highest level of hygiene: Even after 72 hours of storing the damp wipe in a pre-preparation box, there is no sign of considerable bacteria growth. Due to that, r-NanoTech micron is ideal to be used in healthcare areas, where a high level of cleanliness and hygiene are required. Besides this, r-NanoTech micron can be used in hygienic sensitive areas like canteens, hospitals and patient rooms. The four-colour coding system allows an easy differentiation of the cloth, reducing the risk of cross-contaminations. The durable and washable micronfibre cleaning cloth was designed for daily laundering without a dryer and is ideal for pre-preparation methods.
Benefits of r-NanoTech micron at one glance:
Superior micronfibre cleaning power
Removal of 99.99% of bacteria and viruses – certified by third-party labs
Tumble drying not needed – can be stored up to 72 hours after washing in damp conditions
Reusable & high washing resistance: up to 500 washes
High absorbency & streak free cleaning
Made from 67% recycled PES
Colour coding system R/B/G/Y
Vileda Professional's new recycled durable wipes: leading with less
Leading micronfibre hygiene and disinfection, fewer PES waste and CO2 emissions
Vileda Professional has created a brand-new range of durable wipes that are produced with up to 70% recycled superior micronfibres. This recycled durable wipes range with r-MicronQuick and r-MicronGlass is now extended and completed by the new r-NanoTech micron. All three products are labelled with the "Love it clean" logo, which represents our belief that every product we develop must contribute to a sustainable future. To fulfil this commitment, we have created the r-process – our responsibility to continuously make use of recycled resources, without any compromises on the cleaning results and hygiene. With this, we help to minimize our stakeholders' footprints by reducing waste and CO2 emissions throughout the cleaning process.
Get in contact with us for further support and information on r-NanoTech micron!
| Description | Color | Size (cm) | Art.no Case | Packs/case | Art.no. Pack | Pieces/pack |
| --- | --- | --- | --- | --- | --- | --- |
| r-NanoTech micron | blue | 38 x 40 | 171670 | 20 | 171671 | 5 |
| r-NanoTech micron | red | 38 x 40 | 171672 | 20 | 171673 | 5 |
| r-NanoTech micron | green | 38 x 40 | 171674 | 20 | 171675 | 5 |
| r-NanoTech micron | yellow | 38 x 40 | 171676 | 20 | 171677 | 5 |