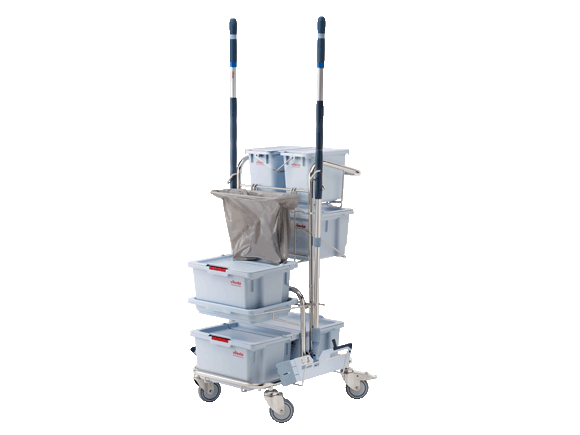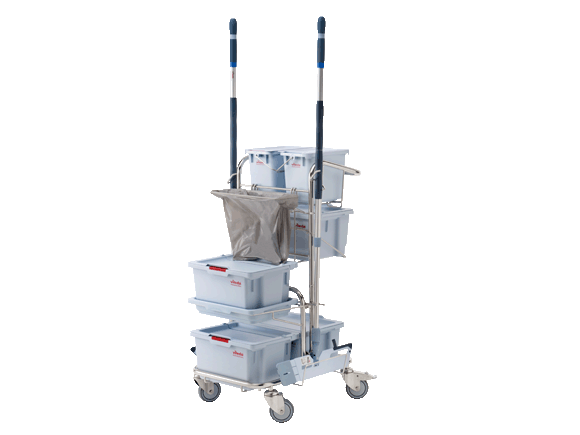 CE Pre-Prepared Trolley
The CE Trolley by Vileda Professional — contamination control solutions
The Cleanroom Pre Prepared Trolley is ideal for use in sensitive areas where an effective contamination control must be ensured. The great advantage of the trolley: The trolley is made of electro polished stainless steel. The trolley is a carrier for the required cleanroom cleaning tools, it is ergonomic and can be easily cleaned and fully autoclaved thanks to the detachable push bar. Our cleanroom products and equipment are certified and have been tested and validated by a third part and by our own labs. With this validation, they qualify for recommended use in ISO5 / GMP A+B environment Contact us directly for further information on certificates and test reports!
In addition, the Pre Prepared Cleanroom Trolley offers plenty of space for all the cleaning utensils that are needed to accomplish effective contamination control. Depending on your requirements, you can customize the trolley. Choose from different details — buckets, boxes, sieves or usage of bin bags.
Benefits of the Pre Prepared Cleanroom Trolley
The Pre Prepared Cleanroom Trolley by Vileda Professional is specifically designed for safe cleanroom cleaning for example in laboratories or pharmaceutical production:
The Trolley ensures avoidance of cross-contamination to meet the highest cleanroom requirements
The Cleanroom Pre Prepared Trolley is easy to clean and autoclavable thanks to the detachable push bar and the stainless steel
Also, the electro-polished stainless steel has a surface not allowing contaminants to adhere to and is easy to wipe clean
The Trolley is functionals and versatile with superior ergonomics
You can customize The Pre Prepared Trolley and add different details and extras
Choose between large or small bin-bag holders
Avoid particle release by design
No dirt traps when sterilizing
More information about the Cleanroom Pre Prepared Trolley by Vileda Professional
The Cleanroom Pre Prepared Trolley has been specifically designed for cleanroom environments where maximum contamination control is needed. Thanks to the stainless steel with airtight connection and smooth welds, the Cleanroom Pre Prepared Trolleys ensure the best microbiological- and contamination control possible.
The Pre Prepared Trolley can be customized with different mop frames, boxes and other accessories. The Top shelf with fixed box position for one pre-mop box or two 6l buckets makes the trolley a working station. It also has an innovative drawer shelf construction for easy access to our cleanroom mops like MicroControl CE Mop or MicronSwep.
We provide complete contamination control solutions including planning, trial programs and training. Get in contact with us for further support.

| Description | Size (cm) | Art.no Case | Packs/case | Art.no. Pack | Pieces/pack |
| --- | --- | --- | --- | --- | --- |
| CE Pre-Prepared Trolley | 65 x 62 x 103 | 143774 | 1 | 143775 | n/a |