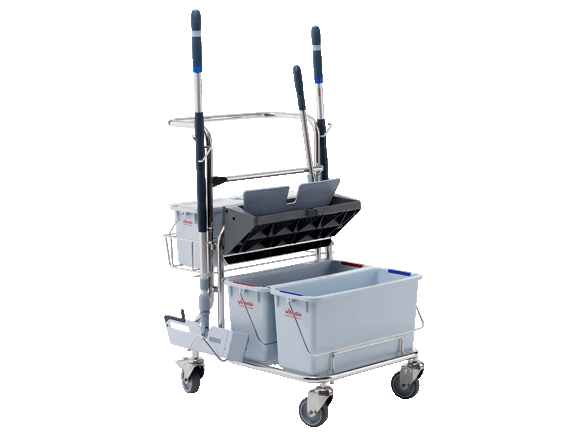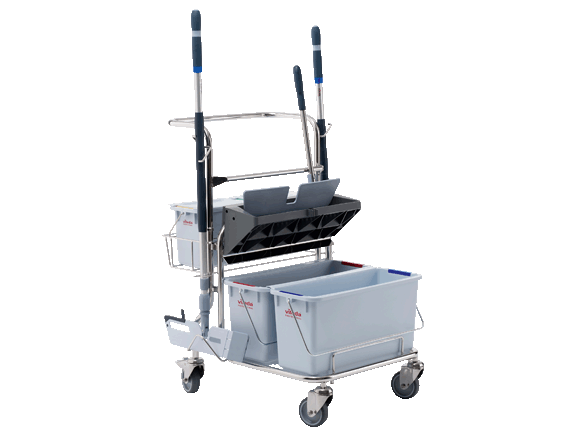 CE Bucket Trolley
All-in-one solution for your cleanroom bucket trolley & mopping system
As a product of the Cleanroom Trolley range, the Vileda Professional CE Bucket Trolley is one of our specifically designed cleanroom bucket trolley systems for use in controlled environments for effective contamination control in highly sensitive areas and cleanrooms. Especially in highly sensitive cleanroom areas, for example in pharmaceutical production or laboratories, professional cleaning trolleys must meet GMP or ISO requirements as well as given demands in safety and ergonomics. Our products have been validated and are recommended for use in up to ISO Class 5 / GMP A+B environments. Certificates from external institutes support the qualification process in the respective cleanroom industries.
Due to the high-quality material and clever design, our trolleys are easy to clean and even easier to use. The electro-polished stainless steel with its smooth weldings enables a quick and thorough wipe-off to achieve for a contamination-free surface in seconds. Innovative handle holders and air tight connections prevent any dirt traps. The detachable pushbar can be put on and off in order to match the size of the sterilization units.
The cleanroom bucket trolley ensures excellent microbiological control while being extremely functional and versatile: Its ample space can be customized to the cleaning equipment of your needs. Add boxes, bin bags and even cleanroom buckets – our third bucket extension option allows you to work with 3 cleanroom buckets. We want your trolley to be the perfect fit for your preferred mopping system and cleaning utensils in order to meet hygienically safe cleaning requirements and minimize cross-contamination.

A cleanroom bucket trolley for microbiological control
Clean with the Cleanroom Bucket Trolley to meet the highest cleanroom standards for contamination control
Avoid particle shedding and help you clean faster and more effective
Easy to sterilize electro-polished stainless steel with air tight connections
Swift & safe to operate: 4 autoclavable casters with 2 breaks
Large storage basket fits 22l Long Cleanroom Bucket or two 6l Cleanroom Buckets
Can be used with sieve support plate, wringer and 2 mop frame holders
Convenient steel support bar for DuoPress Wringer or Dip-N-Go Sieve
Add mop buckets, boxes, sieves & more for any needs
All products are tested and certified for recommended use in ISO 5 / GMP A+B Class Cleanroom
Greater convenience & higher safety for a sterile workplace
The stainless steel trolley was developed by our experts to facilitate hygienically safe cleanroom cleaning with all mopping systems while adding more comfort to the experience compared to conventional cleanroom bucket trolley. With its large storage basket, the Vileda Professional CE Bucket Trolley allows you to move single, double, and triple bucket systems, mop frames, sieves, disinfectant wipes, bin bags, mops and everything you need in one go.
Our cleanroom bucket trolleys with their superior ergonomics transport all necessary cleaning items effortlessly to every area of your site. Move your trolley quickly and confident: its four casters are noiseless in use and the wide steel chassis provides excellent stability when pressing. We have also included two breaks in order to ensure a safe stand of the steel trolley on any floor surface. Our cleanroom equipment is made from highest quality material to avoid particle release. The CE Bucket Trolley makes an innovative cleanroom bucket vehicle that is ideal for areas requiring high disinfection contact times.
We provide complete contamination control solutions including planning, trial programs and training. Get in contact with us for further support!

| Description | Size (cm) | Art.no Case | Packs/case | Art.no. Pack | Pieces/pack |
| --- | --- | --- | --- | --- | --- |
| CE Bucket Trolley | 77 x 71 x 95 | 141926 | 1 | 141927 | n/a |